MIRAJ is an independent IT company based in Berkshire (UK)
Background & Early PC's
The founder and Director of the company, Mr. Javed, worked on programming Mini and mainframe computers back in 1979. This was only a few years before the first IBM PC was launched in 1981 with an Intel 8088 processor boasting a CPU speed of less than 5Mhz and RAM memory of 256Kb…Aah, the days of the early PC enthusiasts!
Software Engineering (Programming)
Mr. Javed led a Successful career in Software Engineering working on large and complex Computer systems. The experience acquired over the years and passion for technology led to the formation of MIRAJ in 1992. MIRAJ Computers was created to provide specialist computer consultancy and technical support for Action Speed Tactical Training (ASTT) simulation systems that were used worldwide for naval war-gaming & tactical training. The photograph below was taken in December 1993 in Malaysia after the successful completion of a 5 week intensive ASTT training course presented onsite by Mr. Javed for the Royal Malaysian Navy in Lumut, Perak., Malaysia.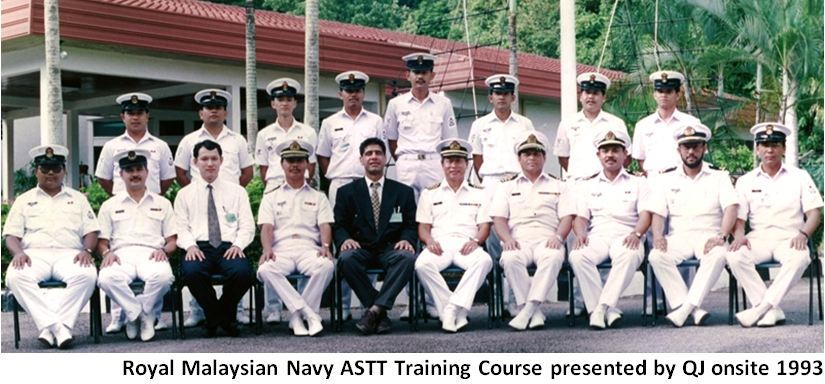 From 1992 to 2001, Miraj undertook and successfully completed contracts on behalf of large corporations including Ferranti International, Aerosystems International, GEC-Marconi & British Airways (Engineering).
Internet Cafe & Broadband in UK
With the phenomenal global growth and popularity of the Internet  during the late 1990's, MIRAJ ventured into the internet business in 2001 as an independent business providing fast and reliable internet access for the local community.
At the time in 2001, Internet was not widely available and most households in the UK were still using slow dial-up connections which could only deliver a maximum download rate of 56 kilobits per second. This meant people spent more time downloading content than actually enjoying it. In the UK, significant migration of domestic internet dial-up to broadband (also known as High speed internet access) started in about 2000 but it was still rather expensive. For comparison in download speeds and prices over the years, listed below are BT's top-of-the-range highest speed ADSL products:-.
2001– 2Mb was about £160 a month plus £260 install fee
2009- 20Mb was about £26 a month and No install fee
2010-
See also UK Broadband history.
In 2003 we moved into the present much larger premises which enabled us to add more PCs in spacious and comfortable environment and to offer quality Fresh Food and Drink.
Computer Repair & Support
The experience acquired in the procurement, installation and maintenance of PC's and Networks and the frequent requests from our customers led MIRAJ to offer specialist services for computer and laptop repairs down to component level.
Most of the large national companies that populate the sector were in the business of selling boxes (PCs, Printers, Routers, cables, CD's and manuals) with a definate lack of after care service, value for money and range of services such as home visits or home training.
MIRAJ in effect became a "one stop shop" that offers every computer repair from virus removal to a motherboard or laptop screen replacements. At MIRAJ we have the facilities and expertise to service most computer makes and models. MIRAJ also Buy, Sell, Service and trade in new and pre-owned computers and laptops.
In a short period of time MIRAJ became one of the most successful Computer & Laptop Repair centres in the areas. MIRAJ currently has a pool of highly qualified Directors, experienced Engineers and in-house Technicians of both hardware and software specialisation's.
Since its formation in 1992, MIRAJ Computers has been providing Technical Support & Maintenance services for large organisations, SME businesses and home users. With extensive experience, a large computer inventory, established relationships with major suppliers and knowledgeable staff, you can be sure the solution we offer will be relevant and meet your deadlines and budgets.