Modern Computers – Fast Internet – Comfortable Environment
We serve customers on a 'walk-in and surf' basis without the need for membership and for other services always strive to serve on a while-you-wait basis.
We have private areas that are ideal for self-employed, remote teleworking and Hot-Desking. We have special rates and services for your 'Office away from the office'.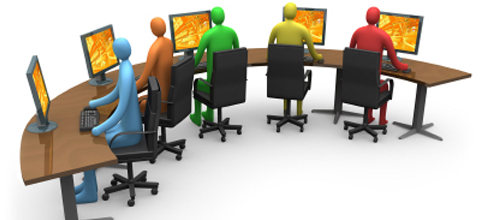 Miraj has a largest Internet Cafe offering the general public use of computers with high-speed internet access that is charged on an hourly basis.
Surf n' ye shall find!
Communication and entertainment today is not just about the telephone and the TV or theatre; computers, email, instant messaging, fax and the web are fundamental in the way that we communicate with our family, friends and customers.
Harness the power that technology provides; be more responsive and have greater flexibility in where and when you work.
COMFORTABLE & SPACIOUS WITH PRIVACY
Management and Staff at MIRAJ are dedicated to offering customers a comfortable, spacious and private web-surfing experience. We designed the internet side of the business to give the customer absolute privacy as they surf. Too many internet cafes are designed to get the maximum number of computers into the minimum space thus sacrificing comfort and privacy.
In today's busy lifestyle, we appreciate customers time constraints and the need for efficiency. So we have put in place systems, work & technical procedures aimed at reducing unnecessary delays, keeping any customer waiting time to a bare minimum and and ensuring highest system/internet reliability and availability.
LUDICROUSLY FAST SPEED
Trouble-free and Ultra Fast Internet Speeds
QUALITY PC's
We provide good quality high specification and state-of-the art computers with unrestricted use of floppy, CD/DVD drive, headphones, Web-cams, USB ports to connect and use your USB devices. We offer easy hassle free connection for your Laptop/Mobile Phone/IPod/Camera or USB device.
We even allow you to install and use your own software and connect your hardware.
Fast & Reliable Internet Access at the best price for the local community, businesses and tourists in comfortable, spacious and friendly environment offering maximum privacy.
FREE use of Headphones, Webcams with friendly Help & Advice
EFFICIENT 'CLEAN' MACHINES
We place great emphasis on system reliability to ensure you have a fully functional, virus and ad-ware free machines.
SOFTWARE
Most popular software is pre-installed on and ready to use on all PCs. This includes following.
Pre-installed software on all PCs includes following.
Microsoft Office (Word, Excel, Power-point) plus others
Instant Messengers for Chat with headphones & Webcams (Yahoo, MSN, AOL AIM, Google, etc)
Media Players (Media Player, Real, QuickTime, iTunes)
Most Common software applications are installed and ready to use (Web Editor, FTP, Photo editing)
We go to great lengths to ensure all our PCs are up-to-date with all the latest system updates, plug ins, services, language packs etc.
FAST & EASY INSTANT PRINTING
High speed, good quality, Colour and Black & White laser printing services available in-store. Easy to use printing service set-up in-store to allow customers to print from any PCs with  just a click for instant short print runs. Ideal for printing Job CVs, special discount vouchers, documents, airline boarding passes, simple flyers or presentations etc.
High Volume Professional Print & Design service
For larger volumes or business printing we provide full professional Printing & Designing service offering Digital & LITHO printing for Best Quality, Price & Service with a FAST turn around delivery direct to your address. Letterheads, Stationary, Cards, Flyers, Leaflets, Brochures, Posters, Booklets, Menus, Stickers, T-Shirt printing, Colour, Matt/Silk/Gloss, Single or Double sided, Laminated and much more!
Need  somewhere different to work occasionally?
Be our guest – A Virtual Office for Self-employed, Remote working & Hot-Desking, 

There may be times when you just simply need a desk for a few hours or a day. You might be on the road , between meetings in a different city, and have a business deadline to hit, or perhaps you need a fresh and clutter free environment in which to think and do some work. We have the answer.
Simply drop in, take a seat, plug in your laptop and go! It's that easy.
If you need secretarial assistance, our team is on hand to help with typing, copying – anything you need to get the job done.
We can arrange and set-up your own desk with telephone and internet access
Administrative support such as word processing, photocopying, laminating, faxing and document binding if you need it.
A Quite, Clean and professional business environment
WIRELESS HOTSPOT
Available for our customers
NET GAMES
COMING SOON!
Some of the best games including Call of Duty, Half-Life & Counter Strike
Unfortunately there was not enough demand for games, so for time being this will not be implemented.
NO WAITING
We will en-devour to serve and resolve any problems while-u-wait
NO BOOKING
No booking  or membership required – Simply turn up & Surf
COMPETITIVE PRICE
Best priced services in the area
SIMPLE PRICE SCHEME
Our minimum charge for PC/Internet is £1 for 20 minutes, after which we charge in 5 minute intervals (25p per interval). So 30 minutes is £1.50 and one hour is £3.
We have Discounts Schemes for regular users, Please ask at Reception Counter.
NO RESTRICTIONS
Unrestricted and Full access to our computers and also the Internet
CUSTOMER SOFTWARE
Customers are welcome to install their software or games on our system for temporary use only, but must remember this will be automatically erased on system reboot or end of there session.
LAPTOP & USB DEVICE
Customers are welcome to bring their laptops, Portable USB disks, camera, mobile Phones and other devices to connect to our fast network and computers to download/upload or transfer documents, music, picture and videos.
FLEXIBLE TRAINING
100's of on-line courses from Novice to Advanced to suit you including educational games.
FREE INTERNET STARTER SESSION
If you've never used the internet before, you will be amazed at what you can do. It's a fantastic source of information and great fun – and it's never too late to give it a try.
For a limited time, we are offering free internet starter sessions. Our friendly staff are on hand to help you out, offering as much or as little support as you want. Learn the basics such as:-
using a keyboard and mouse,
finding out how to search for information
Looking at websites
Sending a email
FREE IT HELP & ADVICE
Uncomplicated expert help & advice in plain language for all your Internet and IT needs.
FRIENDLY ENVIRONMENT
Clean and relaxed environment with spacious and private surfing areas.
OPENING HOURS
We are open 6 days a week as follows :
Monday – Saturday :  9am to 7pm
Sunday                        :  CLOSED
We are Closed public Holidays.
We can open earlier or stay open later if trade demands.
Computers available for out of hours hire for groups of 5 and above, call or E-mail for details.  
LOCATION & Directions
123 London Street, Reading RG1 4QA (click here for map, directions and aerial views )
We are opposite the Tesco Express Crown Street store at the traffic lights Junction with the A4 London Road and Crown Street. We are about 200 yards from Oracle's cinema or Great Expectation Pub.
Our machines are installed with a unique hardware level system recovery card,  that restores the PC to a clean status after each session. Incredibly this means that even the most potent virus and spy-ware can be nullified by a simple reboot. Consequently, you can be assured of a fully functional, virus free machine offering unrestricted access to the Internet and computer.
For your security you can be safe in the knowledge that anything you do on our system is automatically deleted when you finish, the computer is automatically rebooted (re started) and a reinstall of windows done, its just like having a new computer every time you use our system!
Being the largest independent Internet cafe in the area, we always strive for excellence and place great emphasis on quality, system reliability, super fast internet speed and customer services. Being independent enables us to be flexible and to accommodate customer requests. We take pride in offering customers a comfortable, spacious and unrestricted private web-surfing experience.
Our service and range of products provide exceptional value for money and there is always expert help & advice available.
So just come on down and surf the Web, check your e-mail, Chat with friends or  family, play the latest Games, Scan a few old pictures or pose 'n' click in-front of the web-cam for an instant digital photo, generate your CV, find a new car, job or even a new partner! The possibilities really are endless.
Details on all services can be found via the SERVICES menu.